Moisture resistant particle board 38 mm (2800x2070)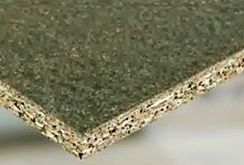 -10%
KOD: DW38A280/207

Chips in 1-5 Business Days
Format:2070x2800
Surface:5.796 m2
Volume:0.2202 m3
Size (height. / W. / D.): 2070 mm x 2800 mm x 38 mm
$47.70 Base configuration price
$42.93
Your configuration price
Not available
Quantity in stock: 100
Information
Installation
Shipment and handling
Warranty and support
The hallmark of chipboard with increased water resistance is a characteristic green color.

Water-resistant chipboard is used for the production of furniture, which will be operated in high humidity conditions.
This is mainly furniture for bathrooms and kitchens.
Furniture produced from particle board more resistant to moisture and does not lose its properties during use in wet environments. However, it should be noted that it is also exposed to swell, just to a lesser degree than conventional chipboard.

Thickness - from 8 to 40 mm,
Width - 1750, 1830 and 2070 mm, 2150 mm
Length - 2440 – 3600 mm.