Laminated Birch Plywood 21 mm (1250x2500) Grade 1, Formwork Plywood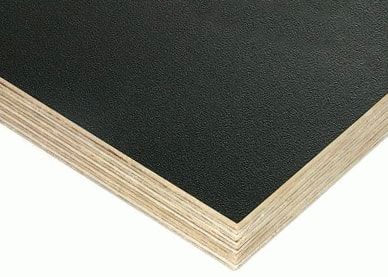 -10%
KOD: S21FOF1
Chips in 1-5 Business Days
Format:1250x2500
Surface:3.13 m2
Volume:0.065 m3
Size (height. / W. / D.): 1250 mm x 2500 mm x 21 mm
Weight: 32.656 kg
$50.50 Base configuration price
$45.45
Your configuration price
Not available
Quantity in stock: 200
Information
Installation
Shipment and handling
Warranty and support
Laminated plywood is made of birch plywood covered with a layer of waterproof phenolic or melamine film (one or both sides). The edges of the plywood are coated with acrylic paint of natural color to prevent moisture penetration.
Laminated plywood surface is glossy, smooth, hard and easy to clean. Is resistant to abrasion and protects the plywood from moisture and chemicals commonly used.

Surface quality (Grade) - smooth/smooth (F/F), smooth/wiremesh (F/W)
Gluing classes
Plywood is glued with phenolic resin adhesive that meets the following standards:
BS 1203 / H4 (WBP)
DIN 68705 part 3 / type BFU 100
EN 314 / 3rd class
Formaldehyde emission level shall not exceed 0.2 mg HCHO/m2h, which meets the standard E1
Thickness (mm): 4, 6, 9, 12, 15, 18, 21, 24, 27, 30, 35, 40, 45, 50
Sizes (mm): 1220x2440, 2440x1220, 1250x2500, 2500x1250, 1500x2500, 1500x3000.
Overlaying
The outer protective coating is applied under high temperature and high pressure. Coat base consists of a layer of paper impregnated with resin (phenolic or melamine).
Usually used density of the coating is 120 g/m2. Plywood may be covered with the films of a density 167 g/m2, 220 g/m2 or 440 g/m2.
Overlaying colour: brown, dark brown, light brown, black.
Application: shuttering systems, the production of the concrete prefabricates, automotive industry (containers and trailers sidings), boatbuilding, decorative packaging and boxes, playgrounds, sport equipment,toys.