Exterior Birch Plywood 15 mm (1250x2500), Grade C/C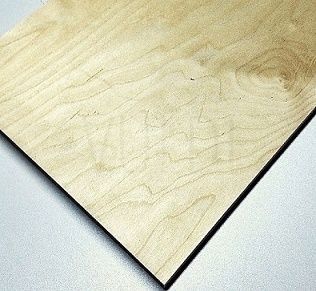 -10%
KOD: S15FSF44
Chips in 1-5 Business Days
Format:1250x2500
Surface:3.13 m2
Volume:0.046 m3
Size (height. / W. / D.): 1250 mm x 2500 mm x 15 mm
Weight: 30.469 kg
$28 Base configuration price
$25.20
Your configuration price
Not available
Quantity in stock: 60
Information
Installation
Shipment and handling
Warranty and support
All our birch plywood is sanded on both sides and composed of 1,4 mm thick veneers by cross bonding. Face veneers can be both long grain and cross grain. Advantage of long grain, if it is laid with long age parallel to the span (perpendicular to supports), is so called "strong orientation" sheet of plywood has more plies with the grain running perpendicular to supports.Gluing classes Plywood is glued with phenolic resin adhesive that meets the following standards: BS 1203 / H4 (WBP)
DIN 68705 part 3 / type BFU100
EN 314 / 3rd class
Formaldehyde emission level shall not exceed 0.2 mg HCHO/m2h, which meets the standard E1
Thickness (mm): 4, 6, 6.5, 8, 9, 12, 15, 18, 21, 24, 27, 30, 35, 40, 45, 50
Sizes (mm): 1220x2440, 2440x1220, 1250x2500, 2500x1250, 1500x2500, 1500x3000, 1525x3050, 2150x3850
Grades
B(1) - The highest quality plywood, sanded, with no discoloration and external defects, for painting
BB(2) - High-quality plywood, sanded, with only minor trim and healthy knots, varnishing and painting
CP(3) - The standard quality plywood, sanded, larger defects, corrected insertions, more defects than in the class BB.
C(4) - The lowest grade plywood, uncut, holes and knots
Meets standards requirements GOST 3916.1-96. Determined above quality grades affects only exterior veneer and do not affect the strength parameters of the plywood.